---
ARTS SHOW – CAROLYN SHATTUCK
---
A LOOK AT BOOK ART

Jul 25, 2014
Visual Art Review: Speaking volumes: A look at book art
By Victoria Crain (Arts Correspondent)
Carolyn Shattuck prepared a visual feast for me when she invited me to her studio. Color, shapes, patterns, who
A public artist's reception will be held Friday from 6 to 8 p.m.
The array Shattuck showed me represented a retrospective of 10 years' work starting with an arrangement called "He Stole My View," a miniature stage set depicting her home by the sea, a lofty patio, and her neighbor's enormous trees, planted specifically to obscure her view of his property and, apparently, his ocean.
If you haven't looked at book art, Shattuck's work will give you a good start. If you are a book lover, you will reach for them. If you admire art with the mark of the artist's hand, Shattuck's books will please you.
These pieces are three-dimensional ways of looking at ideas. More than sculpture, not books in the usual sense, Shattuck's creations create visual narrative.
Some have words, but not all. Some are books whose pages turn. Others, though, unfold, expanding with variety and drama.
"Happiness III" opens into a carousel of images and words. The words reflect responses Shattuck's family gave her when she polled them about happiness. The pages are covered in a subtle palette with vivid cutout paper explosions between them.
The companion book, "Necessary Losses," features words and phrases about losses necessary for growth. These are elegant and moving books.
A flexagon is fascinating to consider, because it is a paper sculpture that you can turn inside out. Some flips of the book present a complete drawing. Another flip reveals parts of two complimentary designs. Playful, they invite exploration.
"The Urn Book" is a solemn reminder that we will die. Vividly white, incorporating Shattuck's drawings that hark to primitive American tombstone art, the book sets up like a three-dimensional floor plan. Quiet and intense, "The Urn Book" reaches for the viewer, saying, "Consider me."
"Triple Decker" presents an apartment building, with people and laundry hanging and color everywhere. You can imagine the noise here in this place.
And then there are the tunnel books. They are like looking into a many-roomed shadow box, each room's design leading the eye to the subject at the deep end.
Shattuck's book art is ingenious, meticulous and thoughtful. It is sometimes funny, sometimes filled with mourning. Of her inventive process, she says that her ideas ruminate in the backroom of her brain, organize themselves, and come to her complete: shape, color, materials and words simultaneously. Then she goes to work.
Collected by many, Shattuck's books have places in the following collections: the National Museum of Women in the Arts, Washington, D.C.; Mark Waskow's The Waskomiun Collection in Burlington; IBM in Essex Junction; Penn State Freyberger Collection; Tyler Museum of Art in Tyler, Texas; and the University of Vermont Special Book Collections in Burlington.
If you come to the Castleton Downtown Gallery, you can read the books — but more likely, they'll speak right up on their own.
Castleton Downtown presents the book art of Carolyn Shattuck, through Aug. 16, in Center Street Alley (between Paramount Theatre and Sunapee Bank) in Rutland. Hours: 1 to 6 p.m. Wednesday-Saturday; for information, call William Ramage, 468-1266, or email castletoncollegegalleries@gmail.com. An artist's reception will be held Friday from 6 to 8 p.m.
---
THE MOUSE AND THE MONSTER – ANONYMOUS
Nov 18, 2011
Friday night was card and
beer night. He drank himself into
a stupor. He would come home
a monster. The beating and
punches began until he became
exhausted. While I was
smashed into the walls or space I
did not make a muffled sound.
I ate my pain.
Fear dominated deep into my
spiritual soul.
Saturday and sunday he
would transform into a coward
mouse. His behavior was
satisfactory. The mouse made
promises to atone his ways. He
would indulge and humor us with
clothes and toys until the next
friday night ritual would occur.
I dealt with my problem
secretly. It was not real. If I
acknowledged the problem,I
would have to admit, recognize
and defend my marriage. In my
thinking this was not acceptable.
In time my worthy feelings
toward the monster dissipated,
never to return.
When reality set in, I had
to make a choice for change. The
changes I starved for would take
great effort to achieve. I did not
have control of my environment
or my safety. I desired a better
life. This process was going to
be a long exhausting path. I
enrolled at the high school in
town which offered college
classes. Three classes, nine
credits, I was on my way.
Study time was difficult
with high tension at the kitchen
table. The monster lurked
around, ready to pounce trying
to obscure my thinking. The
behavior caused great physical
and mental pain. Severe
sadness took over my body
and with regret I chose defeat.
In time the marriage ended.
Three years later I enrolled in
school. Five years later I received
my diploma in Business. Six
years later I married a magnificent
man. Life is great with love,
respect and kindness.
My world turned on its axis
in my favor.
---
WARDROBE CHRONICLES
Nov 18, 2011
Raising Awareness of Women's Rights

Through the process of making and dressing cutout women figures , stories unfold. These figures, represented globally, bring light to the silent crimes they endure. "Rape is the culture of silence", quotes President Ellen Johnson Sirleaf. In India, bride burning takes place approximately once every 2 hours. In Asia alone, one million children are working in the sex trade.Violence and abuse towards women takes place everywhere. This installation of women who stand on a named scarf celebrate their dignity while telling stories of hope.
In the early 1990′s, the United Nations and the World Bank began to proclaim the potential resource that women and girls represent. " Investment in girls' education may be the highest return investment available in the developing world." Larry Summers wrote when he was chief economist of the World Bank.
---
THE QUILTS OF GEE'S BEND, VOL. 2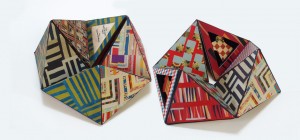 Nov 11, 2011
Remarkable works of art, from a tradition that dates back four generations, are made by women who live in a rural African, American Alabama community. The goal was to improvise with established designs to create a unique composition. Materials such as old clothes, cornmeal sacks, denim jeans and fabrics that fit the color palette were used. This book honors the unnamed women who  made these unusual and stunning quilts. The Quilts of Gee's Bend, vol. 2 is a flexagon, H- 3.5″ x W-8.5″ x D-8.5″. inkjet  printed on Epson paper.  Edition 25.
Purchased by: Brooklyn Museum Library – Brooklyn, NY
---
PRESS RELEASES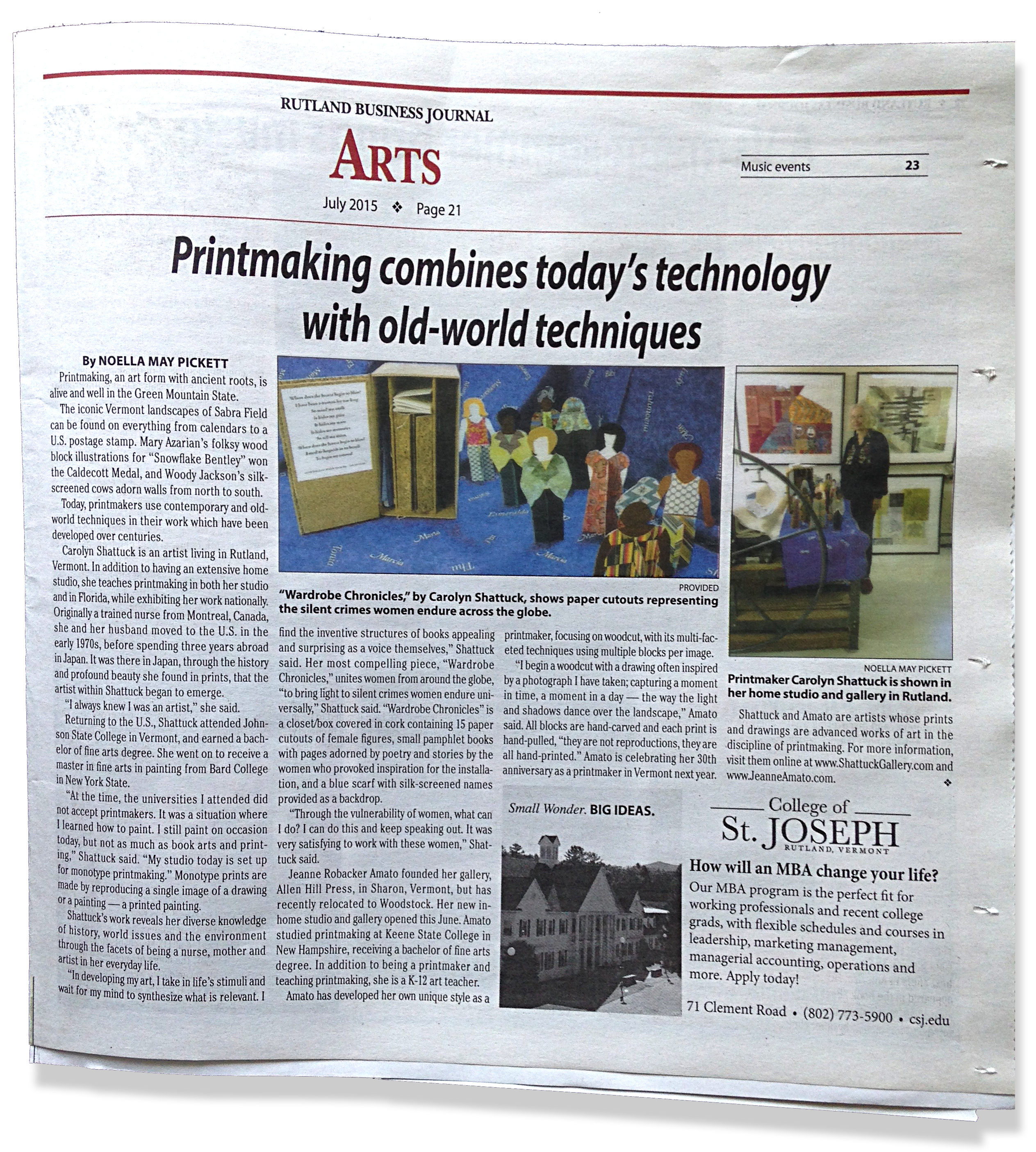 ---
---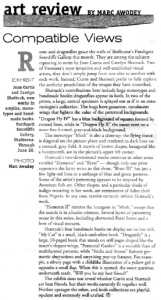 ---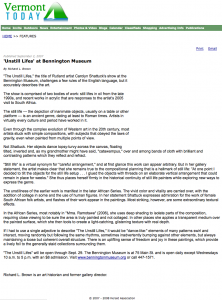 ---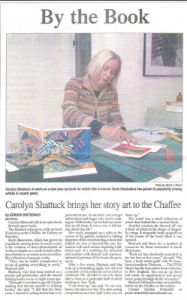 ---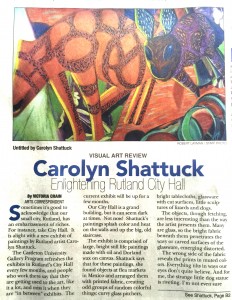 ---
Sometimes it's good to acknowledge that our small city, Rutland, has an embarrassment of riches.  For instance, take City Hall.  It is alight with a new exhibit of paintings by Rutland artist Carolyn Shattuck.
The Castleton University Gallery Program refreshes the exhibits in Rutland's City Hall every few months, and people who work there say that they are getting used to the art, like it a lot, and miss it when they are "in between" exhibits.  The current exhibit will be up for a few months.
Our City Hall is a grand building, but it can seem dark at times.  Not now!  Shattuck's paintings splash color and heat on the walls and up the big, old staircase.
The exhibit is comprised of large bright still life paintings made with oil and Dorland wax on canvas.  Shattuck says that for these paintings, she found objects at flea markets in Mexico and arranged them with printed fabric, creating odd groups of random colorful things:  curvy glass pitchers, bright tablecloths, glassware with cut surfaces, little sculptures of lizards and dogs.
The objects, though fetching, are less interesting than the way the artist presents them.  Many are glass, so the bright fabric beneath them penetrates the wavy or carved surfaces of the glassware, emerging distorted.    The wrong side of the fabric reveals the prints in muted colors.  Everything tilts in ways our eyes don't quite believe.  And for me, the strange little dog statue is riveting.  I'm not even sure he is a dog.  Do they have big-eared animals like this in Mexico?  Small, surreal dogs?
Shattuck created a bright, somewhat foreign environment in these paintings.  They feel southern:  full of sun and warmth and a tipsy perspective: a striking contrast to the well-mannered hallways of our historic, shady and resonant City Hall.
A second series hangs in the small first floor corridor leading to the parking lot.  Shattuck made these works by carving patterns into aluminum sheets and using them to print color onto paper.  Then she layered more printed images atop the first.  And, she cut up other works and added them, making more layers.  Shattuck says she likes to repurpose her work, lifting an image from one print and placing it atop a new work.  The pieces in this series are light-spirited and refer to the sea.  Again, Shattuck gives her viewers a breath of outdoors.  Looking at them, you can just about smell the salt air.
Go to City Hall and look at art.  Or go to City Hall to do something businesslike and notice the art.   It's a gift.